I'm still recovering a little bit from JerryFest 8 yesterday at The Boathouse as I write this, but I didn't stay late and I didn't overdo it, just have a nagging headache and a cold that's been passed around my family.
I wanted to stay for Melvin Seals and JGB's full set, but I'm kinda like a reverse vampire at those Sunday afternoon/evening shows at The Boathouse – it's best to get home when it's still daylight.
I had been more jazzed than usual about JerryFest when I realized that I could drag my mother-in-law's boyfriend along thus exposing a visitor to the kind vibes of our beach's underbelly – and I mean that in a good way.
JerryFest starts earlier than The Boathouse's typical Sunday Funday shows, so we packed up a cooler with some beverages and sandwiches and headed to the parking lot for some tailgating – just like a Dead show…well, sort of.
As we tailgated at the parking lot across the street from The Boathouse, we kept getting suspicious looks from passersby.
Did we look like narcs?
Then a hodgepodge RV-kinda thing rolled in to adjacent lot, and I thought "OK, here we go."
And as I chatted and sipped my Coors Light from my Red Solo Cup, I saw out of the corner of my eye the ambling of a dude that I knew would wind up eventually coming over to us – and of course he did.
He was kind of like a Dead-head version of Beavis mixed with one of those dudes from "Swamp People," immediately talking crap, asking us for an extra Red Solo Cup (not the Toby Keith song), if we had any drugs, and then he proceeds to tell us how much he enjoys vagina, butt-licking and how potent of a sex monster he is. 
Thankfully, this guy is the only douche-lord I encountered at JerryFest, as everyone else was as cool as a cucumber and there to celebrate the life and music of Jerry Garcia.
Well, at least some of us were there for that – there was the usual Myrtle Vegas crowd there too, that couldn't have spotted Jerry Garcia in a police lineup.
Getting to JerryFest early was like going to one of the local seafood buffets for the Early Bird Special - minus the tie-dye, of course.
Anyhow, we grabbed a good spot in the shade along the stairs that lead to the stage and docks below, and had a perfect vantage point for Cosmic Charlie's set.
The Athens, Ga.-based Grateful Dead tribute band did not disappoint, capturing the trademark harmony vocals of Garcia et al, and also his distinctive, sinewy guitar riffs. These guys even had the two-drummer attack down pat, and their extended, tribal beat duet was one of the show's highlights, as the pounding reverberated off of the water and the banks of the Intracoastal Waterway.
I am not a huge Deadhead, and not too versed in the Grateful Dead's deep catalog, so I wasn't familiar with everything Cosmic Charlie played, but another highlight for me was when the band launched into an extended jam during "Fire on the Mountain" and everything clicked as the lawn filled up with dancing bears (OK, people), the clouds cleared, the sound was pristine – and my beer buzz kicked in.
You never know how much time is going to elapse between acts when you go to a festival-type show, but it appeared they weren't messing around in setting up the stage for headliners JGB (which stands for Jerry Garcia Band, as this outfit is the remnants of one of his many side projects, held together by keyboardist Seals).
After Cosmic Charlie bowed out, we headed back over to the parking lot – not to do anything illegal – but to scarf down the sandwiches we brought with us and chug some much-needed water.
And by the time we got back to the venue, JGB had already started and was into the groove.
I'd seen JGB before and it all came back to me when the band played a sort of reggae-fied version of Bob Dylan's "Positively 4th Street" – a stalwart of JGB's set since the days when Garcia was actually in the band. Garcia had a fondness for Dylan tunes, and the Dead even backed the mercurial Mr. Zimmerman on the aptly titled collaboration "Dylan and the Dead" which was lambasted by critics.
I wanted to stay longer, but I had to get out of there before I got into the deep, so to speak.
I was also keen to make it home to watch the closing ceremonies of the London Olympics, as it was rumored The Who would be performing – which they did, but NBC decided to include it as "bonus" coverage, and didn't show it until after midnight. So I stayed up to watch it, even though I knew it was a mimed/pre-recorded performance, but somehow it still had more of an edge than many of the other performers that paraded about in this celebration of British music.
And that's another reason why I'm dragging here this otherwise fine Monday morning.
But enough about the weekend that was, let's set the table for the week that is.
We're working on some good stuff this week here at Surge headquarters, including a back-to-school package geared toward returning college students that lack interior decorating skills – in short, we'll offer tips for decking out those box-y dorm rooms in style (including tips on not over-doing it for guys). Also, we've got new editions of our Gay in the Life and Living Green columns, a new Open & Shut Case, a look at the new Big D big-screen theater at Broadway at the Beach, along with fresh Pod Picks, Recliner Reviews and your 7 Days a Week planner.
And to get your week started on the right foot, here a couple of options for breaking up the monotony of Monday, and to get you through until Hump Day.
TONIGHT
Manic Monday – what about Murder Monday?
No, I don't mean watching reruns of "Murder She Wrote," I mean help solve a murder mystery – and stuff your gullet at the same time.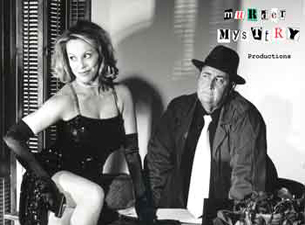 You can channel your inner Holmes and Watson by attending the Murder Mystery Dinner Theatre tonight at the House of Blues' Indigo Room, which is an interactive show where you have the chance to test your crime-solving skills.
As the name of the event implies, it includes a full-course dinner.
Doors open at 7 tonight, and that's when the action starts, too.
Take note: due to the subject matter, the Murder Mystery Dinner Theater is not recommended for tykes younger than 13.
Tickets are $42 (and yes, that includes grub).
House of Blues is at 4640 U.S. 17 S., Barefoot Landing, North Myrtle Beach.  Call 272-3000 or visit www.houseofblues.com/myrtlebeach.
WEDNESDAY
Did you know that Wednesday is National Relaxation Day?
Well, I must admit that I didn't either until publicity peeps for Tommy Bahama let me know.
The laid-back-tropical-clothing-brand-turned-restaurant is celebrating National Relaxation Day locally at its Market Common outlet.
To celebrate, Tommy Bahama Restaurant – Bar – Store is promoting a relaxing type of menu with several barbecue dishes and specialty cocktails, including the "Eight Fifteen." Move over 4-20! Anyhow, the 8-15 is a mix of Curzan Dark Rum, Carpano Antica, lemonade, simple syrup and fresh strawberry – and you can always order it without the booze.
But more importantly, Tommy Bahama is pushing to get National Relaxation Day recognized as an official holiday in the U.S. and you can go online to sign a petition to support this endeavor at www.tommybahama.com/relax.
Tommy Bahama Restaurant and Bar is at 3044 Howard Avenue at The Market Common on the former Myrtle Beach Air Force Base. It is open from noon to 10 p.m. on Wednesday. Call 839-1868.